The Golden Charm
by Carolyn Nelson
$15.00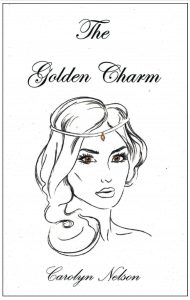 From abandonment and kidnap,
To the London social scene,
Eve… a child of hidden talents
,Grows into Evangeline.
In the early 1850's
'Ones good name' is everything,
Gossip of a well-known scandal
Carries with it quite a sting.
That 'sting' will taint Evangeline,
If the truth remains unknown,
Any hope of marriage prospects
Will sink… like the fabled stone.
And that scandal also marks her
As a villain's easy prey,
Will her foresight save her virtue?
Or will evil get its way?
Description
The Golden Charm
A charming rhymed story for adults set in the 1850's.
Written by Carolyn Nelson