Miss Emily's Emporium
by Carolyn Nelson
$15.00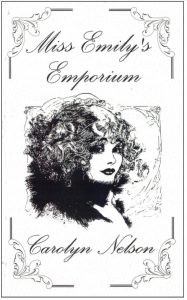 Miss Emily Carstairs' talent as a seamstress, is unique,
Skilled at turning into classics, gowns once owned by the elite.
With the skill sets of the Bensons, her 'adopted' family,
She has plans to start a business to provide security.
Her financial independence, through her late father's estate,
Puts her in a fine position, to be master of her fate.
But her lawyer, Mr. Smithers, has financial custody,
And is disinclined to part with power over Emily.
Can her own determination and her friend's strength and support,
Save her from the legal wrangle In which Smithers has her caught?
Description
Miss Emily's Emporium
A delightful period drama — written in rhyme for adults
by Carolyn Nelson